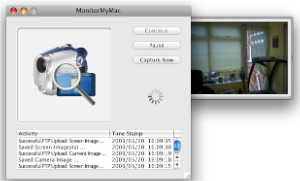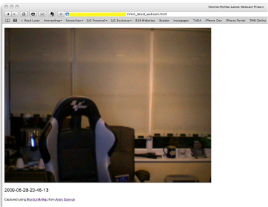 What is it ?
MonitorMyMac takes timed snapshots of your computer Screen(s) and / or takes snapshots from your connected Webcam. These images are stored locally (or remotely) and are also optionally uploaded to your FTP server or MobileMe Account meaning they can they be accessed from anywhere via Webpage Bookmarks -
View your Computer / Webcam from Your iPhone / iPad / Netbook or any Web Enabled Device.
Why Should I Buy It ?

Because it's genuinely
useful
,
good value
and
fun
:


See what happened on your computer, or in your office / room when you were absent

Verify that your children are not doing something they shouldn't be on their computer

Monitor your Goldfish / Bird / Tortoise while you are on holiday

Capture an image of the person stealing your computer

Provide a visual record of what you were doing and when - ideal for billing those 'lost hours'

Create a Quicktime Movie of the days images as a visual journal

Bookmarked Webpage Access to Latest Screen and Webcam Images

and lots more ...
Our objective is to build effective, focused software that remains simple to learn and easy to use. If a feature isn't needed, it isn't there. Tell us where we are succeeding, and where we could be better. -
Steve Cholerton
IMPORTANT NOTE:
MonitorMyMac is not designed for illegal or covert monitoring. Arten Science takes no responsibility for the the use of this software in any way which is illegal within your Country or Territory.